Home » Posts tagged 'Lost in Yonkers'
Tag Archives:
Lost in Yonkers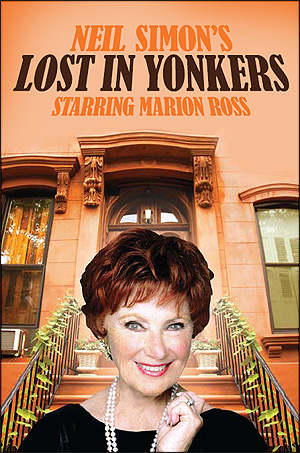 This contest is now closed. Thanks to all who entered! However, you can still get an exclusive discount on all Lost in Yonkers tickets—just use the coupon code BOOKCLUB20 (caps sensitive) to receive 20% off any ticket purchase!
This spring, the Harold Green Jewish Theatre Company is bringing you Neil Simon's Pulitzer Prize and Tony Award-winning play Lost in Yonkers (May 12–June 10), starring everyone's favourite TV mom—Marion Ross. Everyone loved her as Mrs. C in Happy Days, and now she will star in this very funny, heartwarming Neil Simon classic, along with comedic actresses Linda Kash (Best in Show and Waiting for Guffman) and Sheila McCarthy (I've Heard the Mermaids Singing and Little Mosque on the Prairie).
Bookclub-in-a-Box is giving away two tickets to the June 3 performance of Lost in Yonkers, which will include a special post-show Q&A to address the social issues in the play. To enter, just email your full name to laura@bookclubinabox.com by May 14, 2012. Good luck!
The post-show Q&A on June 3, called "In the Theatre, Everyone is Naked: Finding Our Humanity Through the Stage," will include a discussion about the theatre's role and power in laying bare our universal humanity, with a focus on our common and individual social reactions to issues of mental health and family history. Joining the cast will be Dr. Vivian Rakoff, professor emeritus and chair of the department of psychiatry at the University of Toronto.
In addition, ticketholders on June 3 will be eligible to win a Bookclub-in-a-Box prize pack, including a print discussion guide and novel; a Bookclub-in-a-Box collectible mug; and two tickets to any 2012-2013 performance in the Harold Green Jewish Theatre Company series. Winner will be announced immediately following the show, and must be in attendance to claim their prize.
To book tickets for June 3 (or any other date), we're offering a special discount for all Bookclub-in-a-Box readers—just use the coupon code BOOKCLUB20 (caps sensitive) at the show's website, and you'll receive 20% off any ticket purchase.
About the show: Lost in Yonkers follows an eccentric New York family in crisis during the summer of 1942. Old country rules clash with new world ideals as a strong-willed grandmother struggles to rule her children and grandchildren with an iron fist. This coming of age story is both humorous and touching as it follows a dysfunctional family learning to cope and evolve during incredibly stressful times.